Shanghai medics lend helping hand to remote villages
Share - WeChat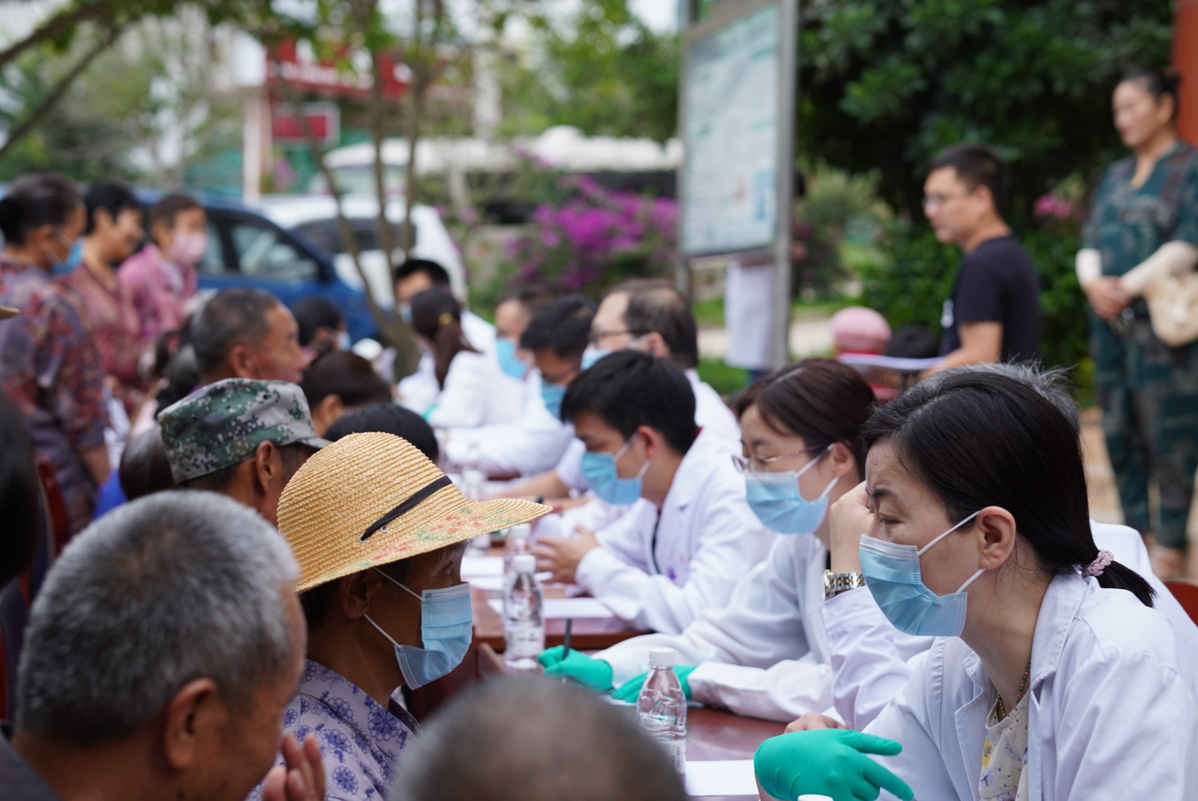 Contributing to the pursuit of quality healthcare through medical volunteering has been the mantra of a medical team from Shanghai's Fudan University for 26 years.
This August, the members set foot in remote counties in Chongqing municipality and Yunnan province, offering medical services to locals for two weeks.
The team consists of 30 medics from hospitals affiliated with the university, such as the Children's Hospital and Zhongshan Hospital.
During the trip, which spanned from Aug 2 to 15, the team examined patients, carried out clinical demonstrations and gave lectures to local doctors.
"Medical aid is vital to poverty alleviation, and the volunteer activity will facilitate the introduction of high-quality resources to remote areas and assist in the construction of the health sector," said Gao Jiming, the team leader and deputy secretary of the Party Committee of Huashan Hospital Affiliated with Fudan University.
In Shizhu county, eastern Chongqing, the team received some 300 patients at the local People's Hospital on the morning of Aug 4.
"Most patients have common illnesses. For example, many residents suffer from paederus dermatitis, a skin irritation due to contact with certain species of insects usually found in mountainous areas and farmland," said Wei Yi, a team member and doctor in dermatology at Zhongshan Hospital.
"Due to limited healthcare resources, however, some locals do not see doctors when having mild symptoms and miss the opportune time for treatment," she added.
One such case was an elderly man in his 80s. Wei, who has 27 years of medical experience, immediately knew that the patient was suffering from psoriasis erythrodermia, a serious type of skin disorder, just by looking at his nails.
"Patients with such a condition in Shanghai would normally be hospitalized because a delay in treatment would affect internal organs. But the elderly didn't see a doctor at all, although it has been a year," said Wei, who has suggested that the local government strengthen the popularization of health knowledge.
Over in Yunnan province, the Fudan team has been providing medical aid to people living in the mountainous Yongping county since 2015. Most patients here suffer from diseases caused by prolonged exposure to the sun, aside from other common illnesses such as chronic cardiovascular disease.
According to the university, many local residents have expressed hopes that the team could extend the duration and frequency of their visits. But as the team is unable to do so due to other commitments, the focus of each visit lies in improving the skills of the local medics, said Wen Hui, an urology physician at Huashan Hospital.
To do so, the medical team has been giving lectures on diagnosis and treatment and introduced cutting-edge, authoritative clinical norms to over 200 medics from villages in Yongping.
A research on the local healthcare system was also conducted, and it determined that one of the most urgent tasks is the development of diagnosis and treatment methods for severe diseases.
The Fudan team believes that this can be addressed with the installation of more smart equipment, the introduction of more professional training and medical talent, and enhanced communication with hospitals in other cities.
According to Xu Hongbo, deputy governor of the county, an online diagnosis platform was established six years ago to facilitate communication between the People's Hospital in the county and Jinshan Hospital which is affiliated with Fudan University.
The most recent addition was a telemedicine system which was established on Aug 14 to improve communication between medics from Yongping county's People's Hospital and Huashan Hospital in Shanghai.
Shizhu and Yongping were officially lifted out of poverty in 2019.